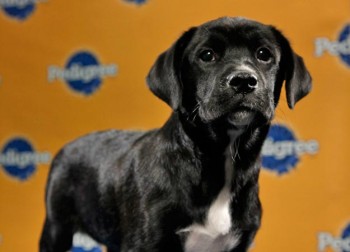 I have to admit this is the first time I've watched the Puppy Bowl.  It is just too cute!  (Although I really can't believe it lasts 2 hours.)  I think Cooper, my Vizsla would have watched even longer.  I've never seen him so interested in a TV show.
My favorite starting players:
CB, the Shih Tzu / Beagle mix who looks like a horse because she has a white patch where a horse's mane goes.
Duncan, a Golden Retriever /Bulldog mix
Little Red, another Shih Tzu / Beagle mix
Louise, a Rat Terrier / Lab / Hound mix
Cast your vote for the game's MVP.
My favorite on-the-field moment:  the Long-haired Chihuahua from Beverly Hills Chihuahua II who streaked across the field in the first half.
Although the whole show is obviously a way to show off the advertisers, it does have a redeeming quality.  All of the players are shelter dogs looking for a forever home.  See their pictures and where they are sheltered on Animal Planet.  Pictured above is Molly, a Boxer mix currently being housed by Luv For Mutts.
I hope you got a chance to check out the Bowl today, and will consider adoption as a way to build your 4-legged family.
Until next time,
Good day, and good dog!
Similar Posts: