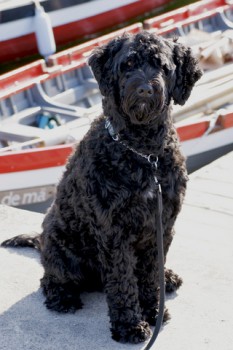 Here's the field for the Working Group.

Akita GCH Nakodo's Reign Of Glory
Alaskan Malamute GCH Catanyas Latin Lover
Anatolian Shep GCH Carpe Diem's Old School
Bernese Ch Avatars Try Try Again
Black Russian GCH Petr Pervy Iz Russkoi Dinastii
Boxer GCH Winfall Brookwood Styled Dream
Bullmastiff GCH Peerless I Am The Love Bug
Cane Corso GCH Leonitis Big Show Sargent (OK, I thought the breed was pronounced "cane" like what you use to walk when you have balance problems, but it is actually two syllables – can-ay.)
Dobie GCH Protocol's Veni Vidi Vici
Dogue de Bordeaux GCH Mount Sinai's Crusader St Amand
Germ Pinscher GCH Spirits Ceriinan Enebys Chevelle
Giant Schnauzer GCH Skyline's Eliminator
Great Dane GCH Lobato's JitterBug Man
Great Pyrenees GCH Dieudonne William Of Orange
Greater Swiss Mountain GCH Painted Mtn Oliver Twist Of Fate
Komondor GCH Meadow View Officer N A Gentleman
Kuvasz GCH Szumeria's Wildwood Silver Six Pence
Leonberger GCH Starhavens All I Want For Christmas
Mastiff GCH Lazy D's Bonnie Blue
Neapol Mastiff GCH Bruno Della Vecchia Roma
Newfie GCH Pawsinn Threeponds Lancelot
PWD GCH Aviators Luck Be A Lady
Rott GCH Cammcastle's Friar Tuck
Samoyed Ch McMagic's Candied Ham Of Pebblesrun
Husky GCH Kontoki's A Bend In The Road
St Bern GCH Mickey III
Std Schnauzer GCH Shalimars Golden Ticket
Tibet Mastiff GCH Drakyi Gold Standard
Dog to watch: Scarlett, the beautiful Boxer.
And the winners are:
1 – PWD: Ladybug
2 – Boxer: Scarlett
3 -Kuvasz: Tanner
4 – Samoyed: Candy
The Portie will advance to the Best in Show ring later tonight.
Find the best dog breed for your family.
Until next time,
Good day, and good dog!
Similar Posts: