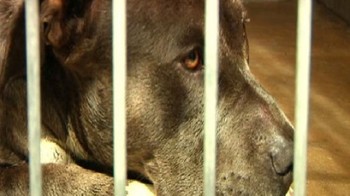 This is one lucky dog.  Seems his mom, Jamie Guillen, either borrowed or carjacked a red pick-up truck at knifepoint, then became involved in a high-speed police chase down Silver Strand Blvd in Coronado, CA on March 3rd.
After clipping another car, the truck rolled and caught fire, killing the carjacker, as well as a passenger.  The dog, an unaltered 18-month old male blue Pit Bull, was ejected but appears to have suffered only a broken elbow in the crash.
View more videos at: http://www.nbcsandiego.com.
The dog was treated in Chula Vista, but there is no word on where he is now.  If you know, please comment below.
Until next time,
Good day, and good dog!
Similar Posts: