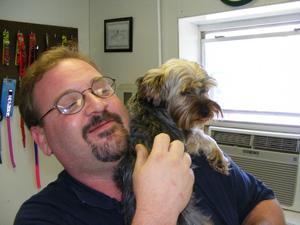 When truck driver Michael Siau left the rest stop in Hannibal, MO, he had no idea his dog had jumped out the window of the truck cab to check out the place for himself. When Siau looked to the back seat to check on Rambo (the perfect name for a tiny 9-month old Yorkie!), he discovered he was gone. Unfortunately, this took place 170 miles later, in Cedar Rapids, Iowa.

Since he was driving a company truck, Siau couldn't just turn around and go back to the rest stop, so he called Animal Control in Hannibal and had them go to check on the dog. Two days later, Siau drove back with his truck now fully loaded, which of course meant he couldn't go into town.
The good folks at the Hannibal Courier Post were happy to help reunite the two, and (say it with me) they all lived happily ever after!
Until next time,
Good day, and good dog!
Similar Posts: