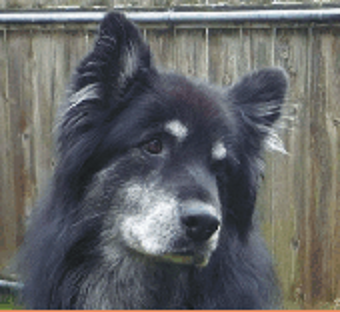 Meet Bjorn!  This handsome boy is currently living in foster care in Seattle, Washington, supported by Old Dog Haven.  Here's what their website has to say about this dignified senior.
Big handsome Bjorn is an 8 – 9 year old Malamute mix, perhaps with Tervuren, with many characteristics common to those breeds.  He's excellent with the group of dogs in his foster home, enjoys their company and is playful and friendly with those he meets.  We don't know about cats.
He's been tolerant of older kids but likes to play keep-away with toys and treasures his bones, so we think a home with fairly experienced dog people and no one younger than 12 would be best.
Bjorn is very good on-leash after he settles down, but is not trustworthy off-leash.  He loves to run and likes as much exercise as possible.  Lounging around is pretty high on his list of good things, however!
He's healthy, has no mobility limitations, and knows basic commands.  Bjorn is a very friendly and inquisitive guy – and gorgeous besides – a fun dog for the right home.
If you're going to be near Seattle, why not make an appointment to meet Bjorn and his friends.  Call 360-653-0311 or e-mail Office AT OldDogHaven DOT org
If you're somewhere else, please visit PetFinder's Shelter Center to find an adoptable dog near you.
Until next time,
Good day, and good dog!

Similar Posts: