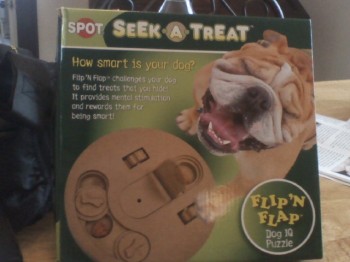 I saw this advertised in a magazine a week or so ago and ordered it on a whim.  Cooper LOVED it!  The box copy states:  Flip'N'Flap Dog IQ Puzzle challenges your dog to find treats that you hide!  It provides mental stimulation and rewards them for being smart!
I'm not sure Cooper passed the test, but he did enjoy playing with it.
The toy consists of two different challenges for your dog.  At the bottom of the toy are three wells, but only two covers.  Think of it as a shell game.  The covers slide to hide any two of the well openings.  When you put treats into the wells, the dog can easily slide the covers to find the wells you used, and eat the treats.
The second challenge is a little harder (and this is the part Cooper had trouble with).  There are two wells that are covered with doors.  To get the doors to open, the dog must push on a wheel next to the well to get to the treat.  Cooper never did catch on.  Instead, he just chewed through the lids.  The entire toy is made of heavy duty pressboard, but it was pretty easy for Cooper to destroy it.
Oh, well, it was fun while it lasted!  And, to be fair, this toy was priced much lower than similar puzzles.  I've seen them advertised for as much as $50, while this one was only $19.99 from Harriet Carter Gifts.
Until next time,
Good day, and good dog!
Similar Posts: