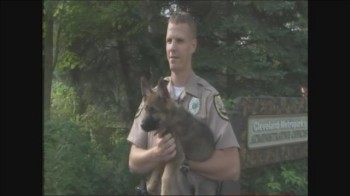 I didn't know they started this young, but Channel 3 news in Cleveland is reporting that the MetroParks K-9 Corps has just sworn in its newest member:  2-month old Logan, son of K-9 Officer Radar.
Tom & Kathy Schmidt, founders of B.A.R.K. (Buckeye Area Regional K-9), donated both dogs to the MetroParks unit, as they have to at least 40 law enforcement agencies throughout the state.  B.A.R.K. meets weekly to provide free training to law enforcement dogs.
Logan is already starting to respond to simple commands and will be trained in tracking, apprehension, and narcotics.
A big wag of the doggies.com tail to the Schmidts for their generous donations!
Until next time,
Good day, and good dog!
Similar Posts: