Phil Newton could barely believe his eyes when he saw a double decker bus being driven by a dog.  Apparently the dog was sitting in the driver's seat with his paws on the steering wheel as the bus drove down the street in the Northern Australian city of Darwin.
Newton chased after the runaway bus, climbed through a window and used the handbrake to bring the errant bus to a halt, moments before it rammed into a parked car.
The dog's owner, Richard McCormack, said, "He sits next to me when I'm driving and in the driver's seat when I'm not. The handbrake is on the dashboard and he's seen me release it many times.
"He was just copying me. He's tried it before."
Woodley, the two-year-old driving dog, had no comment on his botched adventure!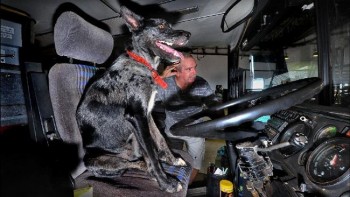 Similar Posts: