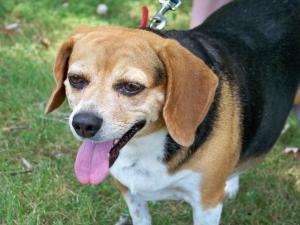 Meet Buttercup!  This cutie-pie is currently being sheltered by Canine Commitment in Gorham, ME (near Portland).  Here's what their website has to say about her:
This darling Beagle found a home with an older lady about 5 years ago, but now the lady cannot take care of her. Buttercup is a bit overweight, but her foster mom is helping her diet. She has been spayed and is up to date on her vaccinations. She is also crate trained, leash trained, and housebroken. This is a very sweet dog who wants your love and attention. If you love hounds, Buttercup would surely fit right into your familys lifestyle. For more information about this little Beagle, email Cathy at [email protected]
I like Canine Commitment because they have recognized that sometimes the right home for a dog isn't located where the dog is being sheltered.  The volunteers in Maine work in coordination with experienced and devoted Rescuers from TN, AR, MO, and MS to help facilitate successful adoptions for dogs needing great homes in New England and Nova Scotia.   They are not a physical shelter, however, they do have available kennel space and foster homes in Southern Maine.
If you're near Maine, contact Canine Commitment at [email protected]
And if you're somewhere else, check out PetFinder's Shelter Center for adoptable dogs near you.
Until next time,
Good day, and good dog!
Similar Posts: