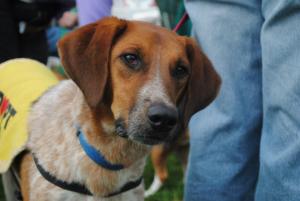 Meet Finch! This adorable Cattle Dog / Beagle mix is being fostered by Tall Tails Beagle Rescue in Freeport, Maine. Here's what the rescue has to say about him, although I think the bottom part of the description was written by Finch himself – he's quite talented!

Finch is now being fostered at a free-range doggie daycare in Portland, ME! which he loves! He gets to run and play with other dogs all day – which is one of his favorite activities!
Finch is such an awesome boy! He just needs an active family to love him. He would make a great hiking companion, he loves to play ball and play in the kiddie pool.
Finch would not be a dog satisfied with being left out on a tether or with just a few leash walks a day – he needs to be run with his human or with other dogs!
If you are interested in a dog who would be a quick study for agility, nose-work, rally-o, etc – Finch may be the dog you are looking for. Please give him a chance at a new beginning.
===
My name is Finch. I am a neutered, male Cattle Dog/Beagle mix. My Mom was a Beagle, but, obviously, my Dad was not. I am a very sweet boy with a lot of energy and intelligence.
I am a year old and love to play and get affection. I get along well with other dogs and would love a home with a young canine companion to play with. I am not a good match for a home with cats.
Due to my "Cattle Dog" traits I like to "herd", so I will be best in a home without small children – and one that understands and loves herding breeds. I am a very smart boy that will thrive at obedience training and advanced courses as well – I already know many commands.
As a high energy dog – I need someone who can spend time every day exercising with me – running, hiking – playing ball – going to the dog park. I am not a couch potato in the least and will not be happy hanging around at home alone for long periods of time.
I will make someone an exceptionally loyal and loving friend. Please give me a new loving home.
If you're going to be near Maine, why not contact Tall Tails and ask to meet Finch and all of his friends? Fill out an online adoption form, send an email to [email protected] or call (207) 797 5392.
If you're somewhere else, check out PetFinder's Shelter Center to find an adoptable dog near you.
Until next time,
Good day, and good dog!
Similar Posts: