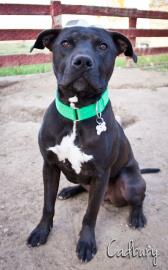 Meet Cadbury! (What a great name for a dog!) This 2-year old Terrier / Pit Bull mix is living in Cheyenne, Wyoming with Black Dog Animal Rescue. Here's what their website has to say about this cutie patootie.

Just like a Cadbury egg, this boy is as sweet as can be! Cadbury was a staff favorite at the shelter he came from, and ended up with BDAR in order to have a better chance at finding a perfect forever family. Cady is very friendly toward people and other dogs, and loves to play and wrestle. He can be a bit possessive of toys, but he is working on realizing that he doesn't need to protect things from the other doggies in his foster home. Once he is done romping around and chewing on his favorite toys, Cady loves to snuggle up on the couch with the other dogs and his foster mom. He takes a little while to get comfortable enough with new people to cuddle with them, but once he does there's no stopping his affection! Cadbury is very athletic- he is able to jump at least five feet straight up, so a tall fence and watchful owners will be essential, at least to start out with. He probably shouldn't go to a home with horses or cattle-he has a strong prey drive and likes to chase larger animals. However, with obedience training, he could be a fabulous hiking partner or running buddy. Cadbury is a great combination of sweet and fun all at the same time-apply to meet him today!
If you're in the great state of Wyoming, why not contact Black Dog Animal Rescue to find out more about Cadbury and all of his friends. Call (307) 214-6600, drop an e-mail to [email protected] or fill out an online application.
If you're somewhere else, check out PetFinder's Shelter Center to find adoptable dogs near you.
Until next time
Good day, and good dog!
Similar Posts: