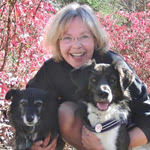 Written from the viewpoint of canine Johann, the Raise A Green Dog site offers the following advice for keeping your dog safe and happy during the winter months.
1.  Use a salt alternative like Safe Paw Ice Melter to melt ice and snow from your walks and driveway.
2.  Never leave your dog outside for longer than 10 minutes when the temperature dips below freezing.
3.  Trim the excess fur from footpads and toes of long haired dogs.
4.  Be very careful with your dogs around rivers, creeks, ponds and lakes.
5.  Learn to recognize hypothermia in dogs, and watch for frostbite on toes, tails, and ears.
6.  Keep drinking water accessible and unfrozen.
7.  Keep dogs away from heaters and open fires.
8.  Clean up antifreeze spills immediately.
9.  Keep your dog on the leash – it's hard to follow a scent trail home across snow.
10.  Provide a high protein diet if your dog engages in outdoor sports and winter activities.
A very good list!  Check out the whole article on Raise a Green Dog's blog.
Until next time,
Good day, and good dog!
Similar Posts: