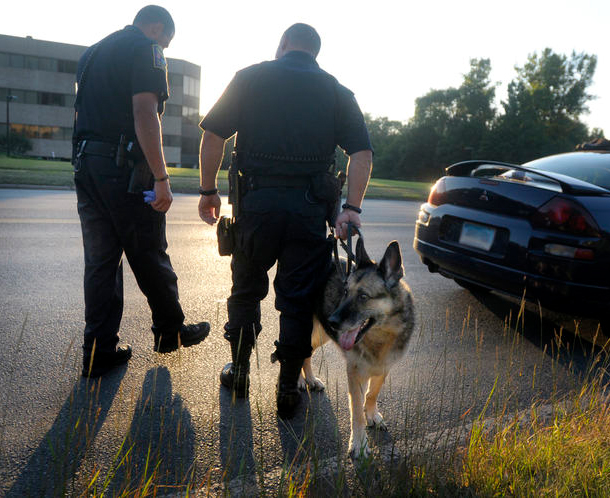 From the Hartford Courant via Life With Dogs: Kora, an 11-year old German Shepherd, retired in August after nine years of service with the West Hartford K-9 Unit. Everyone expected her to live out her retirement with her handler, Officer Eric Rocheleau. However, he noticed that she was beginning to seem sluggish, so he took her to the vet last Monday.

Unfortunately, Kora was diagnosed with cancer that had advanced to the point of causing internal bleeding. Both the original vet and another who was called for a second opinion agreed that the dog would have to be put down within days to prevent any further suffering.
But Rocheleau couldn't bear the thought of letting Kora go without one final shift as an officer. He took her to the police station, where they worked the front reception desk together, allowing Kora to meet and greet many members of the public one last time. Then they rode together in the K-9 unit to their home where private goodbyes were said.
Can't you just see Kora, sniffing at the window, and riding proud in the back seat, serving the town one more time? Rest now, good and faithful servant. You will be missed.
Until next time,
Good day, and good dog!
Similar Posts: