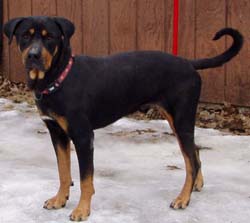 Meet Manny! This beautiful Rottie is currently living in foster care with For the Love of Dog in Hillsboro, NH. Here's what their website has to say about this lover.

Manny is a 3-4 year old Rottie man, found as a stray in Miami. Originally in rough shape, he's been with us since Christmas, gaining weight and learning about life in New Hampshire (fewer alligators, more ice!). Manny is an exemplary house guest. He is crate trained, non-destructive and quiet. He has learned to sit for his food and to be let out of his crate. He tolerates medication, nail trims, and even baths! He weighs 75 pounds and has a lean athletic build.
Manny is very affectionate, and gives kisses without slobbering. He walks nicely on a leash, although he will try and hide behind you if a car comes! Loves to go for car rides. An escape artist when it comes to gates and fences, he only escapes confinement to try and find his people. Manny gets along with submissive female dogs after a get-to-know-you period, but is not good with cats or small dogs.
Manny is a handsome, obedient, loyal dog who will make a wonderful companion. Manny was recently treated for heartworm, but he should be out and about again mid-March.
If you're going to be near New Hampshire, why not contact For the Love of Dog to ask about Manny and all of his friends. Send an e-mail to [email protected] or fill out an online application to adopt.
If you're somewhere else, check out PetFinder's Shelter Center to locate adoptable dogs near you.
Until next time,
Good day, and good dog!
Similar Posts: