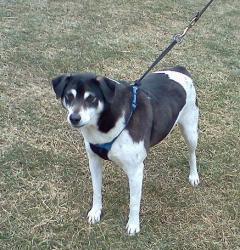 Meet Raz! Short for Razzle-Dazzle perhaps? This beautiful Blue Heeler Australian Cattle Dog is staying with Father John's Animal House in Lafayette, NJ. Here's what their website has to say about him.

Raz is a handsome boy with striking markings.He is very smart, eager to please, and very easy going. He likes to interact with people and loves to go for walks. Calm and mellow, Raz is just a really nice dog that would great for any family.
If you're near New Jersey, why not contact Father John's to find out more about Raz and all of his friends. Call 973-300-5090 or send an email to [email protected]
If you're somewhere else, check out PetFinder's Shelter Center to locate adoptable dogs near you.
Until next time,
Good day, and good dog!
Similar Posts: