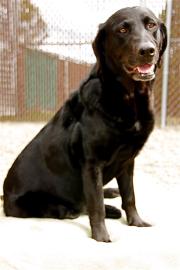 Meet Presley! This beautiful black lab is being fostered by Dogs for the Deaf in Center Point, Oregon.
Presley is one of the dogs they say is in the midst of a "career change". She was found unsuitable for assistance dog work, but would make a great companion dog in your home. She is three years old, but not much else is posted about her.
Presley is one of three dogs listed on the Dogs for the Deaf website – dogs who were rescued and destined for life as an assistance dog, but for whatever reason were deemed unsuitable. The site notes that these dogs are subject to the same restrictions as other dogs – for example, they cannot go into restaurants – because they have not completed their training, and they are not to be adopted by someone expecting the dog to act as anything other than a a pet.
The good news is that Presley can be had only for the cost of a donation to the organization. There is no suggested adoption fee.
If you're near Oregon, why not contact Dogs for the Deaf and arrange to meet Presley and her friends. Send an e-mail to [email protected] or fill out the online adoption application.
If you're somewhere else, check out PetFinder's Shelter Center for adoptable dogs near you.
Until next time,
Good day, and good dog!
Similar Posts: