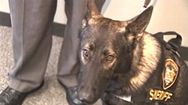 I can't believe it, but it's happened again. A K-9 officer has died after being left in a hot patrol car. It's bad enough when someone who may not know any better does this, but a trained dog handler should certainly know better.
This one comes to us from Celina, a small town in western Ohio. A Mercer Countyt Sheriff's deputy left the dog in his car when he went into the police station to finish up some work on a traffic accident case. He neglected to leave the car and air conditioning running.
The dog, Zak, apparently had a pre-existing heart condition which was aggravated by the extreme heat, resulting in the dog's death.
The Sheriff office's statement said the K-9 program would now be shut down until further notice. Hopefully, before they start the program up again, they will come up with clear, written procedures, including disciplinary action, to protect their dogs.
See the video from WHIO-TV.
RIP Zak. Thank you for your service.
Until next time,
Good day, and good dog!
Similar Posts: