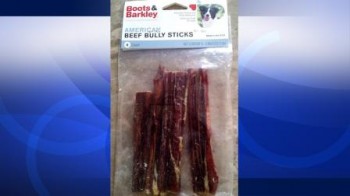 Kasel Associated Industries announced recently that they are recalling their Boots & Barkley American Beef Bully Sticks due to a possible Salmonella problem.

According to a press release from the FDA, routine random sampling revealed that some of the finished product was contaminated with the bacteria. The five-inch Sticks, sold in a 6-count package, were sold nationwide at Target from April through September of this year.
The product comes in a clear plastic bag marked with bar code number 647263899189. Kasel Industries is recalling all lot numbers because the following lot codes tested positive through analysis by the State of Colorado Department of Agriculture: BESTBY20APR2014DEN, BESTBY01JUN2014DEN, BESTBY23JUN2014DEN, and BESTBY23SEP2014DEN.
No illnesses have been reported to date in animals or humans in connection with this problem.
Consumers who have purchased the 6 count 5 inch packages of Boots & Barkley American Beef Bully Sticks are urged to return it to the place of purchase for a full refund. Consumers with questions may contact Kasel Associated Industries at 1-800-218-4417 Monday thru Friday from 7am to 5pm MDT.
The company reports that to date, no dogs have become ill after consuming the product, and the recall is merely precautionary.
Until next time,
Good day, and good dog!

Similar Posts: