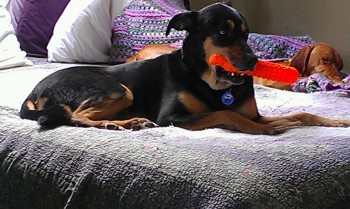 The American Society for the Prevention of Cruelty to Animals (ASPCA) has designated October as National Adopt a Rescue Dog Month.  The purpose of having a national observance is to bring attention to the plight of homeless animals in every community and the unfortunate fact that only 20 to 30 percent of cats and dogs are adopted from shelters and rescue groups.
While 3 – 4 million dogs and cats languish in shelters, a newly released poll conducted by Edge Research and commissioned by the ASPCA reveals that individuals who adopt a dog from a shelter are much more likely to be happy with their experience than consumers who purchase a dog from a pet store.
How can you get involved? Get the word out: send out tweets or post to your facebook page, encouraging people to adopt shelter dogs.
Take the pledge not to buy anything from a pet store that sells puppy mill puppies.
Join the ASPCA on U-Stream on from 7 – 9 pm on October 30th (I'll remind you!) when veterinarians and behaviorists will be chatting and answering your best pet questions. A Halloween costume contest will also be held, with prizes being awarded in several categories.
If you're going to be adding to your little home zoo, visit your local shelter and pick out a dog whose only wish is to join a forever family.
Volunteer to be a foster home for dogs in need.
If you can't take a dog into your home at this time, volunteer your time or make a donation to you local shelter or rescue organization.
Locate shelters and rescues, or browse for local adoptable dogs on PetFinder's Shelter Center.
Until next time,
Good day, and good dog!
Similar Posts: