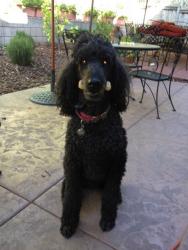 Meet Taylor! This handsome Standard Poodle is living in Northern California, fostered by Bay Area Poodle Rescue. He's really talented, too – he wrote his own bio on their website:
Hi! My name is Taylor.
I am a standard poodle. I am 7 years old and weigh 67 pounds.
I can have a strong will. I need someone who is dog-savvy and who will continue to reinforce my training. I am very well-trained and was tops in my obedience class. I usually get along with most dogs. I had a little Yorkie sister and we were great pals. I have a lot of energy and need a lot of exercise. so I will need an adopter who can exercise me regularly and consistently. I'm a happy and confident dog and love my people. I have never been around children though, so I should be in an adult-only home.
I can be a bit food possessive around other dogs. I need to use a Halti harness when walking because I sometimes need reminding of how to walk on a leash.
I am located in Windsor.
My adoption fee is $350.
To fill out an application fill out our application here and be sure to mention that you are interested in Taylor.
Bay Area Poodle Rescue does not place dogs outside of Northern California, so if you live there, why not contact them to find out about Taylor and all of his friends. If you're not quite ready to fill out an application, you can e-mail them at [email protected] or call them at 510-286-7630.
If you're somewhere else, check out PetFinder's Shelter Center to find adoptable dogs near you.
Until next time,
Good day, and good dog!
Similar Posts: