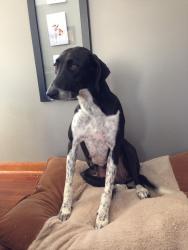 Meet Dutchess! This beautiful Great Dane / Spaniel mix is being fostered by FIDO (Finding Incredible Dog Owners) Dog Rescue in Ann Arbor, Michigan. Here's what they have to say about her:

This sweet baby was rescued from a dangerous situation, and has been doing really well in her foster home. She loves other dogs and kids. She is looking for a loving home where she can grow up healthy and happy.
Adoption Donation:$250
Thank you for your interest in one of our rescue dogs. Our process starts with an application, and we follow up with a home visit. We are a group of volunteers looking to match incredible dogs with incredible dog owners. It's all in the name, we are FIDO.
*DISCLAIMER: We at FIDO Dog Rescue look to match incredible dog with incredible owners. We at FIDO cannot and do not guarantee breed or age of its dogs/puppies listed with us for adoption. We depend on opinions from shelter staff and veterinarians among others to provide us with their best assessments regarding both breed and approximate age to the best of their ability. *PLEASE NOTE: We rescue our dogs from shelters and pounds. Most often we do not have background or history information on them. In the event any information is given to us, we will include that in the dogs profile. *YOU MUST BE AT LEAST 21 YEARS OLD TO APPLY FOR AN ADOPTION.

If you're going to be near Michigan, why not contact FIDO Dog Rescue to ask about Dutchess and all of her friends. Shoot them an e-mail at [email protected] or fill out an online adoption application.
If you're somewhere else, check out PetFinder's Shelter Center to find adoptable dogs near you.
Until next time,
Good day, and good dog!
Similar Posts: