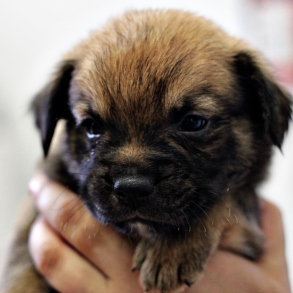 Meet Birch! This cute-as-a-button puppy is living in foster care in Athens, Georgia, compliments of Athens Canine Rescue. Here's what their website has to say about him.

Birch and his seven brothers and sisters are all turning six weeks old! So, they are ready to come home with you!
Their mom is Maple, a small yellow lab mix. Sadly, Maple was at the pound when these little ones were born. But we were lucky enough to get them the very next morning and they have been safe and sound in a foster home ever since!
All these little ones should be around 40-50 pounds when full grown. That's just an estimate of course, but medium sized for sure!
They are all blank slates and need a family to teach them everything – housebreaking, crate training, toys, and snuggles!
If you're going to be near Georgia, why not contact Athens Canine Rescue to learn more about Birch and all of his sibs. Drop an e-mail to [email protected]
If you're somewhere else, check out PetFinder's Shelter Center to find an adoptable dog near you.
Until next time,
Good day, and good dog!

Similar Posts: