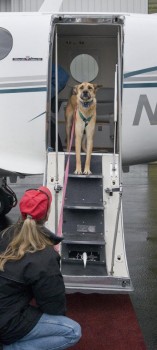 According to their Facebook page, Wings of Rescue celebrated their 2,000th rescued pet flown to safety in a "high level" fashion!

On the morning of Friday, December 7th, a fleet of private aircraft took to the skies carrying dogs and cats away from the kill shelters of Southern California to a new life in Northern California, Oregon, Washington, Utah and British Columbia.
This is perhaps the single largest animal rescue event ever on the West Coast.
The national and local media were present at most of the departures and arrival points, helping Wings of Flight use this event to highlight the animal rescue concept and educate the public about the need to spay and neuter their pets.
Departures were made from Riverside, Van Nuys, Bakersfield and Livermore (Bay Area), and destinations included Livermore, California; Eugene, Oregon; Portland, Oregon (Hillsboro airport); Olympia, Washington; Bellingham, Washington; and Saint George, Utah. Local rescues in Southern California were asked to donate a small sum to reserve spots for their animals on the planes.
When all was said and done, over 300 animals were sent north to find their forever homes. What a great way to celebrate the season.
Until next time,
Good day, and good dog!
Similar Posts: