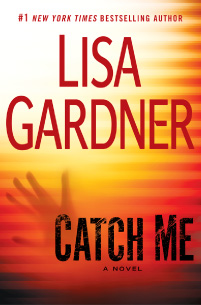 I've always enjoyed Lisa Gardner's books for the tightly-written suspense, but now I love her even more after reading the Author's Notes in "Catch Me".

A quote: Speaking of love, this book is also dedicated to the real Tulip. Adopted by her devoted family from an animal shelter sixteen years ago, Tulip has lived a grand life as one of the smartest, gentlest dogs around. Her family won the honor of including Tulip in this novel at a charity auction for the Animal Rescue League of NH – North. They said that they understood their time with Tulip was reaching an end, and they wanted to capture her unbelievable spirit, as well as immortalize one of the best dogs they'd ever known. So here's to Tulip, who continues to inspire.
The plot of the book revolves around a police dispatcher who befriends a stray dog named Tulip. The dog, of course, helps her to survive the evils in the world. It's a great read, made even sweeter when you know how Tulip came to be one of the central characters.
And don't you just love it that this author participates in animal-welfare charity auctions?
Until next time,
Good day, and good dog!
Similar Posts: