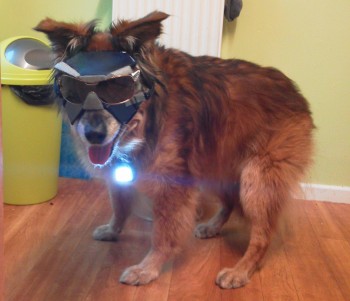 Meet the Invincible Iron Max! This 18-year old cutie belongs to friend-of-the-blog Rob Worrall. Here's what he sent me along with the picture.

I thought I would send you this photo of my dog wearing the his new sun visor. He is now 18 and has a particular sensitivity to sun light. I have previously made sunglasses for him but they sat to close to his head and he would try to take them off.
This version now sits away from his head and his whiskers so he is not irritated by them. The torch is for when he walks around the garden at night but I thought of recent release of Iron Man and could not help to combine the torch and the visor to turn Max into..
The Invincible Iron Max.
Well worth the few hours it took to make them.

Thanks for sending this, Rob!
Until next time,
Good day, and good dog!
Similar Posts: