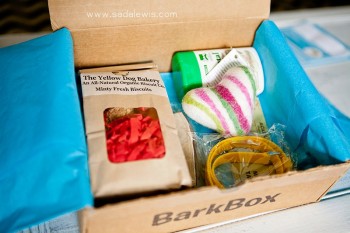 Have you stumbled across Barkbox on Facebook? The idea is a monthly box of at least four goodies sent directly to the doorstep of your favorite dog for as little as $19 a month, similar to a book-of-the-month or fruit-of-the-month.

The really cool part is that 10% of your purchase goes to support rescue organizations. If you work for a shelter, rescue, or animal welfare organization, you can sign up to be a recipient of some of the profits.
Here's how their website describes the program.
When you sign up for BarkBox, every month you will receive a box in the mail with four or more carefully selected products and presents for your dog – anything from toys, bones and all-natural treats to hygiene products and innovative new gadgets!
If your dog is begging for more or you want to gift a favorite item to a friend, we'll give you exclusive opportunities to order more products at a great rate.
A portion of proceeds from each box will go to help doggies-in-need. To learn more about our causes, read about our giving program.
Whether you've known your furry friend for years or have a new special canine in your life, BarkBox is the monthly necessity for keeping your pup entertained and feeling well loved.
What more could you want to spoil the dog in your life?
Until next time,
Good day, and good dog!
Similar Posts: