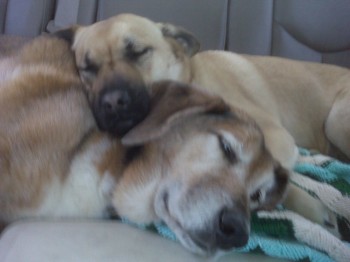 This past weekend was family reunion weekend for the Philley clan. Although I wasn't about to descend on my mom's condo with all four of my dogs, I did get my doggy fix from my brother's dog, Matilda, and my sister's ancient Chihuahua, Archie. Matilda is the one with her head on top in the photo, shown with her late brother, Chance.
Please bear with me while I tell you one story of the weekend's hi-jinx. (I won't make you watch the two-carousel slide show, I promise!)

We were sitting out on the deck at my brother's house with both dogs. Poor Archie has both detached retinas and cataracts, so he can't see anything at all. My sister-in-law was trying to get him to take a drink from his water dish by splashing a little bit of water on his nose, but he wasn't taking the hint.
Matilda watched for awhile, but I think she was jealous that her mama was talking to another dog. She walked over, picked up the water dish in her mouth, carried to the other side of the deck, and drank every drop out of it! I guess she figured there would be no further reason for Archie to be usurping her place if the water was gone!
Until next time,
Good day, and good dog!

Similar Posts: