Allow me to brag just a little. I spent this past weekend visiting my sister and brothers in Fairfield and Greenhills, Ohio (two small suburbs of Cincinnati), so I wanted to introduce you to our family's dogs.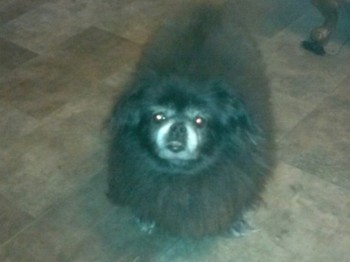 First up is my sister Marilyn's dog, a 14-year old Japanese Chin (probably) who is greatly in need of an appointment at the groomers! (Because it's not like my niece Allison is a professional groomer or anything.) Molly didn't leave my side the entire weekend. Such a cuddler!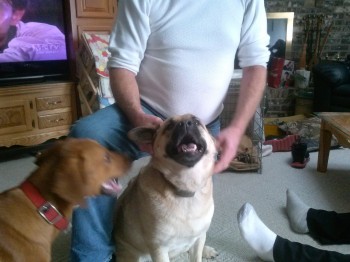 This beautiful dog of unknown heritage is Matilda, who lives with my brother Jim and sister-in-law Phyllis. They are responsible for many of the funny dog photos we present from time to time. Matilda lived behind the paper factory where my brother used to work. When the management changed, they were told Matilda had to find a new place to live, so she came to live with Jim and Phyllis and their other baby Chance. After Chance passed awhile ago, Matilda started refusing to go outside without some companionship, so they had to go get their new baby: Ratchet! I think they had forgotten how much fun it is to live with a 9-month old puppy, but they're adjusting. And both Matilda and Ratchet think they have died and gone to heaven.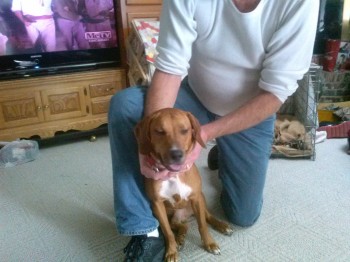 Ratchet is a black-mouth cur who came from a no-kill shelter in southwestern Ohio. He's a great addition to the family! Whoever previously had Ratchet had clearly been working with him, as when my brother said "bye-bye Ratchet" the first morning they had him, the dog went straight into his cage and laid down. Such a sweetie.
And I guess I should apologize to Jim for cutting his head off in both pictures!
Until next time,
Good day, and good dog!
Similar Posts: