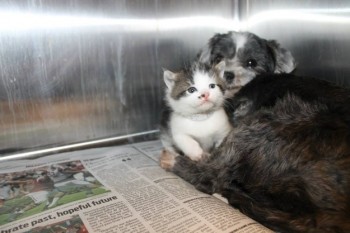 When Anderson, SC, Animal Control Officer Michele Smith received a call about a dog yelping in a ravine behind a home repair store, she never dreamed what she'd find.
The Shih Tzu was just fine, and could probably have gotten out of the ravine with no help, but she had found – and was nursing – an abandoned kitten.
The two were taken to Anderson County P.A.W.S. rescue, and are being fostered together, but are not yet ready for adoption.  The shelter is currently receiving offers to adopt from all across the country, and will be carefully reviewing applicants to find an appropriate placement where the pair can remain together forever.
One more picture, because this was too cute to pass up! Others are posted on Facebook.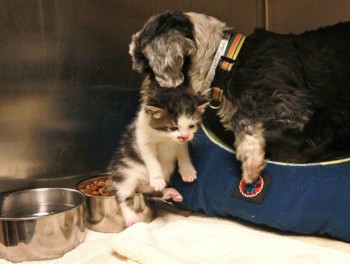 Until next time,
Good day, and good dog!
Similar Posts: