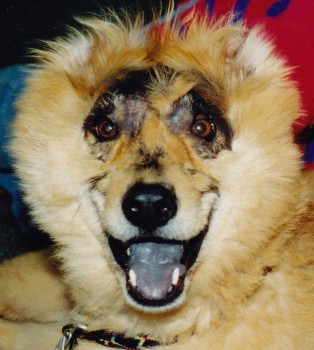 I came across this after the fundraising drive had ended, so I don't have a current status. If you know more, please give us an update in the comments.
In brief, here's the story: a 10-week old Chow-Husky puppy was horrifically abused and set on fire, but was then rescued by a man named Doug James, who nursed the dog back to health and took him into his home, where they lived together for the next 16 years. During this time, both Doug and Gucci worked tirelessly to change the animal cruelty laws in Alabama and across the United States.

Enter Gorman Bechard and What Were We Thinking Films. They are making a documentary about Gucci and several other dogs. Here's how they close their "about" statement on their Facebook page: If you love animals, and you wouldn't have read this far if you didn't, you will fall in love with Gucci. And you will see how his struggle is only the tip of a very big iceberg of abuse. Horrible torture of our most loyal friends. Crimes that so often go unpunished. Just go to Facebook and search "Justice for" and add the name Desmond, Ike, Mijo, or Jetta, the list is disturbingly endless. Hopefully A DOG NAMED GUCCI will be a step in the right direction towards ending such abuse forever. I can't say it any better than that.
If you're associated with the movie or have any details on when / where it will be released, please comment below. I'm not sure I'll be able to bear to watch it, but I sure will publicize this important project.
Until next time,
Good day, and good dog!
Similar Posts: