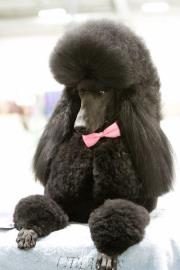 The AKC/Eukanuba National Championship dog show was actually held way back on December 17th & 18th, but ABC today got around to airing a (highly edited) show. From 200 breeds shown at Orlando's Orange County Convention Center, here are the group winners:
Sporting: Black Cocker Spaniel named Beckham
Herding: German Shepherd Dog named Capi
Hounds: Harrier named Chet
Working: Boxer named Scarlett
Toy: Affenpinscher named Joe
Terriers: Wire Fox Terrier named Eira
Non-Sporting: Standard Poodle named London
And the winner of Best in Show was…London, the Standard Poodle! London won $50,000 for his owner, and will have his likeness added to the Champion's Trophy. London even has his own Facebook page!
Other awards given at the show include:
Best Bred by Exhibitor: Joy Hafford for her Afghan Hounds
Junior Handler: Emma Grayson-Echols, who showed her Yorkie
Breeder of the Year: Claus Daniels, for her Sussex Spaniels
Breeders' Stakes Champion: Terri Galle
The following dogs were given ACE Awards
Bingo, a Black Lab service dog who assists Connor, a young boy with cerebral palsy.
Tugg, a companion dog who raises money for various causes
Blue, a German Shepherd who works in Law Enforcement in Suffolk County.
Hunter, a search & rescue dog who was nominated as the LA County Firefighter of the Year.
Micky, a Pomeranian who works as a therapy dog for suicide prevention.
Finally, in the World Challenge, a field of 42 dogs was whittled down to twelve finalists. The World Champion winner was an Australian Shepherd shown by Judy Harrington.
You can find out more on the show's Facebook page.

Similar Posts: