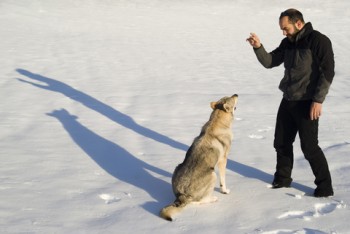 Do you have a specific issue with your dog that is just driving you crazy? The American Kennel Club experts are here to help!

The AKC GoodDog! Helpline offers live telephone support from our team of knowledgeable trainers. Whether you need help training your puppy, introducing an adult dog to your home, or improving their manners, AKC is here to assist.
The AKC GoodDog!SM Helpline team is here to help you get the most out of your relationship with your canine companion. Our staff has decades of experience in training people and their dogs, to help foster and build a long-lasting bond. The AKC GoodDog!Helpline trainers are passionate about what they do, and committed to your success in every stage of training.
Several of the trainers are certified by the Animal Behavior College. Others include a former animal control officer, and several competitors in AKC sporting arenas. Assistance is offered by phone or live online chat.
Enrollment in the program costs $59.99. If your dog doesn't have a pedigree, choose "not specified" in the breed list drop-down.
Until next time,
Good day, and good dog!
Similar Posts: