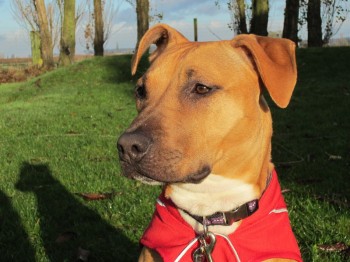 Meet Georgie! This lovely young lady is being fostered in Washington State by Saving Great Animals Washington.
Here's what their website has to say about this beautiful animal:

Meet Georgie, a young, silly, fun-loving Labrador/Staffordshire girl. She could have more amazing breeds in her too, but what she is a beauty with youthful energy when it's time to play, yet can typically mellow well.
Georgie is just a few years old at most.
Her favorite games are fetch (with most anything, but especially tennis balls or sticks) and keep away. She also loves to swim! We've taken her to lakes and rivers, and she is an excellent swimmer and can't get enough of it when the weather is warm. That is the lab in her!
Georgie is very intelligent, and learns new commands and tricks in short order. She is highly food motivated and knows and follows most of the commands — sit, down, stay, come, drop it, leave it, let's go, etc.
She loves walks, and depending on the temperature, she likes jogging quite well also. Her favorite past time is lying in the sun and going places in the car.
She is fantastic on the leash unless she is given the command to "go sniff," which she loves to do. When on walks she does not pull on the leash, and she will sit at the curb before crossing the street when told to "wait," and she understands "turn left" and "turn right." In terms of fun tricks, she even learned to get a beer from the fridge! She is ready to learn more!
In the house Georgie has excellent manners. She is not allowed on the furniture, and outside of a few rare cases, she does not try to get up on the furniture. She is not fed human food, so does not beg when you are eating. When she is fed, she is put in a sit and she waits patiently until released with the food just a foot or two in front of her.
Georgie is very loyal, protective, aims to please, loves people and seems fine with kids.
She is affectionate to guests in the home but only after an initial get-to-know-you period of exuberance
The one area Georgie doesn't excel 100% of the time is with other dogs. She has been fine with bigger dogs, esp if they are non-reactive. However, with smaller dogs or animals, she is not comfortable and will get overly assertive. We think as an only dog is best or with someone with a larger boy dog and lots of experience.
She is amazing and so perfect in every way but the one dog social issue.
A total love!
If you're going to be near Washington state, why not contact Saving Great Animals and ask to meet Georgie and all of her friends. They ask that you start with an adoption application rather than calling.
If you're someplace else, check out PetFinder's Shelter Center to locate adoptable animals near you.
Until next time,
Good day, and good dog!
Similar Posts: