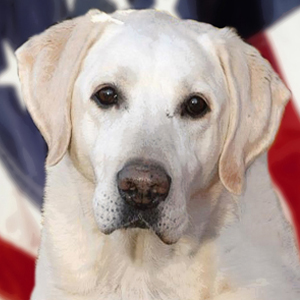 Operation Purple Camp gives the children of military parents an opportunity to do "normal" kid stuff while coping with the stress of having a family member deployed.
American Humane brings therapy dogs to the campsite to help alleviate anxiety and depression while boosting self-confidence among the kids.
What a cool idea!
Carlos served in Iraq and Afghanistan for over 3 years as an explosives detection dog, saving countless lives. Like John D, Carlos is a testament to the strength of a dog's sense of smell.
After he was retired, Carlos was adopted by a woman who takes good care of his medical issues. He now visits civic organizations and schools, spreading the word about dogs who serve in the military.
He is sponsored by Royal Canin and partnered with the charity Military Working Dog Adoptions.
Standing ovation for Carlos!
Get out the tissues – they're now showing a photo montage of previous dogs honored as heroes who have crossed the rainbow bridge.
Be back soon.
Similar Posts: