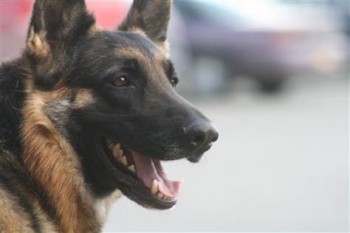 Last week, the American Humane Association broadcast their annual awards show honoring canine heroes. Although all of the dogs on the show were awesome, they were just basically doing the jobs they had been trained to do. Buddy, a 5-year old German Shepherd from Alaska, is a hero because he did something he had never been trained for, and saved his family's home from a fire.

When Ben Heinrichs was out working in his garage, a spark hit a gasoline can and quickly engulfed the garage in flames. Heinrichs, his clothes on fire, ran out and rolled in the snow to douse the flames. On his way out, he shut the door to try to contain the fire, but after he got his clothes put out, he realized he had left Buddy in the garage.
It's a good thing he remembered, because after Buddy got out, he began running through the woods. Meanwhile, the police and fire department began trying to find the Heinrichs' house, about 55 miles north of Anchorage in a backwoods area where there are about 75 miles of winding roads. Buddy ran out on a main road just in front of a trooper whose GPS had mysteriously stopped working.
Somehow the trooper, Terrence Shanigan, knew the dog was there to help and followed him through three turns to the fire. Their route was caught on the patrol car's dashcam and reported on the Today Show.
The family reports that this amazing dog has also chased away bears, protecting them while they fish. But his actions on the day of the fire likely saved the family home. The trooper was able to communicate the location of the fire to the fire department, who quickly extinguished the blaze, keeping it confined to the garage.
Alaska State Troopers recently honored Buddy with a dog dish engraved to thank him for his "diligence and assistance" in guiding trooper Shanigan to the scene.
What a good boy!
Until next time,
Good day, and good dog!
Similar Posts: