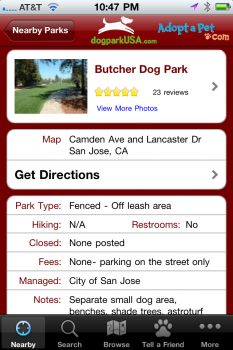 You all know how much I enjoy taking my dogs to Bow Wow Beach in Stow, Ohio.  But if I were traveling, I might find this app really enticing.
Powered by DogParkUSA.com, the new Dog Park Finder Plus iPhone App compiles photos and reviews to give you all the information you need for a quick trip to the dog park or for a vacation across the country with your pooch.  The
Dog Park Finder Plus app displays local dog parks and search results in both map and list pages.  Park details include user ratings, fenced and un-fenced markers, on-leash rules, hours and days of operation and many other features.