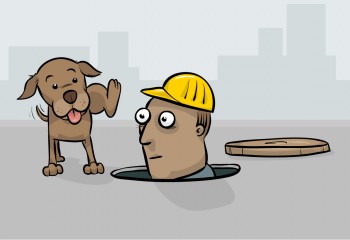 Keep these 5 "P's" in mind as you approach the job of housetraining your puppy… you'll wonder why it used to be such a challenge.
Prediction: Learn to look for the signs… walking around with nose to the floor, just finished eating, just woke up, just finished playing, any other pattern you might notice.
Place: Pick a place where you want puppy to go and always take him/her there
Persistence: Do it regularly, without fail. Yes, it might be too hot, too cold, too windy, too wet, too early, too late… these are all LAME EXCUSES!
Patience: Wait until puppy has done her/his stuff… it may take a while. Relax, breathe some fresh air… it'll do you some good.
Praise: When puppy has done her/his stuff, let puppy know s/he is the best puppy that ever lived… go a little crazy! Puppy won't laugh at you for acting foolish, and it'll really help puppy understand what you want. And remember, puppy's great goal in life is to make you happy!
That's it! 5 easy P's! Prediction, Place, Persistence, Patience and Praise. And you'll have a happy dog and a clean floor!
Similar Posts: