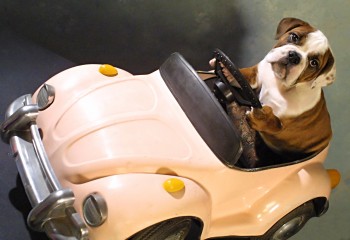 Something else to think about besides high gas prices when you plan your vacation this summer:  how can you protect your pet while you're on the road?
Most dog supply companies and pet stores offer some products you might want to consider if you decide to take Rex in the car with you.  They have car booster seats so he can see out the window without standing on the window controls. 
They also have harnesses to keep the dog in his seat and the seat anchored to the car seat.  God forbid you should have a wreck, but you wouldn't want your dog to be ejected from the car.  If you just want to keep your dog out of your lap, but not necessarily tied down, there are barriers you can put behnd the front seats to keep your dog in the back.
Dog window vents allow Rex to enjoy all the good smells without being able to jump out.  There is also a window sunblock shade in case your dog happens to be of the hairless variety.
Many more products are available online, at places like NextDayPets.com and DrsFosterSmith.com.  Check out ways to keep your pets safe and out of your way while you enjoy the seven wonders of the world.
Until next time,
Good day, and good dog!
Similar Posts: