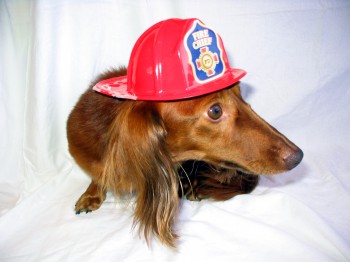 Brighton, Michigan fire chief Martin DeLoach will be awarded a certificate from PETA for rescuing a blind dog from a septic tank.
Beatrice, a rescued dog who lives with Diane Rencsak, is 13 years old.  She wandered into the neighbor's yard and fell into the septic tank.  Barking loudly, Bea alerted people who called the fire department for help. 
Although fire departments are known more for rescuing humans, Captain DeLoach says they do perform animal rescues to prevent humans from trying to do the rescue themselves, which often ends in the human needing to be rescued as well.
Bea escaped without too many scratches, but did need veterinary treatment on her paw pads which were injured when she tried to climb the steep cement sides of the tank prior to being rescued.
PETA vice president Daphna Nachminovitch will present the department with a "Compassionate Fire Department" certificate in honor of its heroic rescue of Bea. 
See the whole story on mlive.com.
Similar Posts: