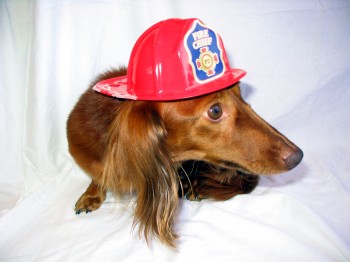 October is fire safety month.  Do you have a safety plan for your dog?
In honor of "October is National Fire Safety Month," Petplan pet insurance and Wag'N Enterprises pet safety gear are joining forces to offer free rescue window alerts for dogs and cats. Petplan offers the only window alerts that can be customized to feature a loved pet's photo, name, and potential hiding spots to help expedite rescue. For every 100 pet rescue alerts created during the months of October and November, a pet oxygen mask kit will be donated to a U.S. fire department.
According to the National Volunteer Fire Council, an estimated 500,000 pets are affected by home fires each year. Motivated by fire-related injury claims, Petplan launched their pet rescue window alert campaign in 2008 to help save more pets in emergencies.
"Pets often hide during fires. Knowing the pet's name or where they might be located can be helpful. Pet rescue alerts need to be kept up to date for the safety of family pets and our firefighters," cautions Lt. Kevin Grogan of the Eastchester Fire Department in New York.
Similar Posts: