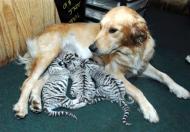 Do you remember the children's book called, "Are You My Mother?"  The Safari Zoological Park in Caney, Kansas, is putting a new spin on this theme.  White tiger cubs, abandoned by their natural mother, are being nursed by Isabella the dog.
Isabella, a Golden Retreiver who belongs to one of the zoo's keepers, had just weaned her own litter when the mama tiger rejected her babies.  Zoo owner Tom Harvey says, "The timing couldn't have been any better."  Apparently, in more ways than one.
The zoo, which had been struggling financially, is now attracting crowds who want to see Isabella with her "pups". 
Isabella apparently cares for the tigers just as she did for her own pups, cleaning them and feeding them.  Harvey says it's not unheard of; in fact, he bought Isabella several years ago after his wife had seen a story on television about a dog caring for tiger pups.  He never knew his zoo would become part of the story!
Until next time,
Good day, and good dog!
Similar Posts: