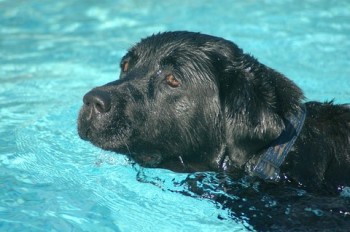 There's nothing like a big, cold swimming pool on a hot September day.  Especially if you're a dog!  The Lawrence (KS) Outdoor Aquatic Center recognizes that many dogs just can't get enough pool time.  Before draining the pool at the end of each summer, they allow dog owners to bring their dogs in for a swim.
September 2, 2008 was the date for the sixth annual Pooch Plunge, a fundraiser for the Aquatic Center.  The pool charges $5 admission for each dog, and raises about $1,500 to pay for pool maintenance, which we would imagine involves cleaning lots of fur out of the filters!
Observers are allowed in for free to watch the dogs playing in the water.  Apparently, it's just a hoot!  The three hour event draws as many as 400 dogs, and an untold number of their 2-legged friends.  People are not allowed in the pool during the pooch plunge, but as one lifeguard notes, "I really don't want to get in the water because it's pretty filthy by now."  Lifeguard Vinny Gonzalez of McLouth states he and his fellow guards are there simply to prevent human participation in the event, not to rescue any dogs whose swimming skills are rusty.  He notes, "I haven't quite had that course."
Pet-related vendors are also on hand, serving dog treats and displaying their wares to the participating dogs and their guardians.
This event sounds like a lot of fun!  Wish the pools in my area would follow suit.
Until next time,
Good day, and good dog!
Similar Posts: