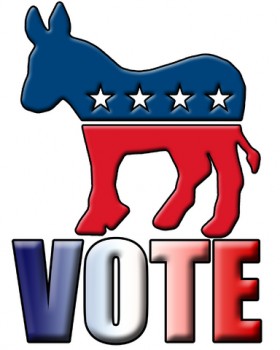 Michelle Obama recently announced that the family plans on adopting a rescue dog once their lives settle down after the election.  We have previously blogged about the fact that the McCains live with a houseful of pets, while the Obamas have none.  They had considered getting a Golden Doodle because one of their daughters suffers from allergies. 
PETA stepped in, noting that getting a purebred could be considered elitist.  Then, the Best Friends Animal Society sponsored a petition which ended up with over 50,000 signatures, encouraging the Obamas to adopt a dog rather than buying one.
In other news, the Humane Society Legislative Fund announced that it would endorse the Obama-Biden ticket because of their positions on animal welfare policies.  Senator Obama has backed at least a dozen animal protection laws in the Illinois legislature, weighing in on topics as varied as animal cruelty, spaying/neutering, and animal shelters.  Since being elected to the United States Senate, he has co-sponsored bills to combat animal fighting and horse slaughter, as well as fighting against puppy mills.  
Senator Biden has also supported animal protection legislation during his career.  He co-authored the bill to ban the netting of dolphins by tuna fishermen and authored a bill to prohibit trophy  hunting of captive exotic mammals in fenced enclosures.   
On the flip side, although Senator McCain owns several animals, he has been inattentive or opposed to some animal protection bills in Congress, according to the Humane Society Legislative Fund.  He has not spoken publicly about animal welfare issues and did not fill out the presidential questionnaire sent by the Fund to both candidates.  In addition, as most Americans are aware, Governor Palin has been actively involved in reducing the wild animal population in Alaska.  She has even been supportive of a bill that allowed hunters to be compensated for killing wolves, only if they brought in a sawed-off paw.  Her reason?  She doesn't like the wolves killing the moose and caribou that could otherwise by available for trophy hunters to shoot.
With that lovely thought, until next time,
Good day, and good dog!
Similar Posts: