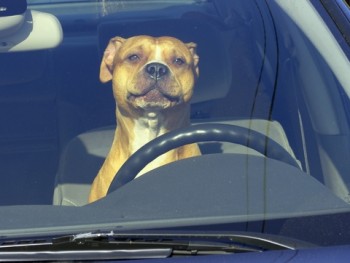 Do you remember the old Saturday Night Live skit about Toonces the driving cat? He would always take the family on a nice trip…right over the edge of a cliff. Turns out his four-legged friend, the dog, can drive, too.

Pryor, Oklahoma's police reports from last month included a 70-pound pit bull who jumped onto the dashboard of a car his guardian was hand-washing at the car wash. Somehow, the dog shifted the car into reverse.
The car backed out of the car wash bay, continued onto a highway and then looped around before coming to a stop at an automated car wash lane.
Although the car was impounded for lack of insurance, the dog was released because he was licensed.
No, the other kind of license.
Until next time,
Good day, and good dog!
Similar Posts: