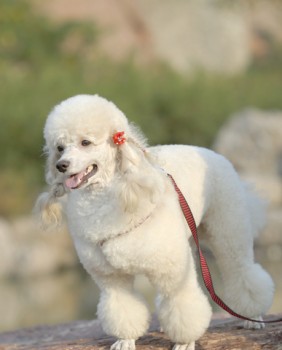 After a full day of judging to find the best of each breed, the competition for best in group was held in NYC last night.  Remember, the best in group doesn't say that one breed is a better representative of the group than another, but it says that the dog that wins is the best example of his breed.  Monday night featured judging in the hound, terrier, non-sporting, and herding groups.
Winners in the hound group:
4th place:  Ch Daybreak's Awesome Blossom W  Breed: Dachshund (Wirehaired)
3rd place:   Ch Quiet Creek's Mi Amor Breed: Bloodhound 
2nd place:  Ch Dun Myrica Speaker Of Eagle Breed: Irish Wolfhound
1st place:  Ch Gayleward's Tiger Woods Breed: Scottish Deerhound
In the terrier group:
4th place:  Ch Earthsong Remedy For The Blues Breed: Miniature Schnauzer
3rd place:  Ch Skyscot's Poker Chip Breed: Norwich Terrier
2nd place:  Ch Efbe's Hidalgo At Goodspice Breed: Sealyham Terrier
1st place:  Ch Roundtown Mercedes Of Maryscot Breed: Scottish Terrier
In the non-sporting group:
4th place:  Ch Gemstone Spoiled To PerfectionBreed: Bichons Frises
3rd place:  Ch Kepley's Showbiz Razzle Dazzle Breed: Bulldog
2nd place:  Ch Lebull's Midnight Confessions Breed: French Bulldog
1st place:  Ch Randenn Tristar Affirmation Breed: Poodle (Standard)
And finally, in the herding group:
4th place:  Ch Lambluv's Daydream Believer Breed: Old English Sheepdog
3rd place:   Ch Sylvan Argent Simply Irresistible Breed: Collie (Rough)
2nd place:   Ch Voodoo Slam Dunks Susants Breed: Bouviers des Flandres
1st place:  Ch Cordmaker Field Of Dreams Breed: Puli
If you don't know, the "Ch" at the beginning of each name means that the dog has earned enough show points to be a Champion. 
Tonight, they judge the sporting, working, and toy groups, then pick among the 1st place group winners to find the best in show, again, the best representative of its breed.   Who are you rooting for?  Out of Monday night's winners, I hope the standard poodle wins – beautiful dog!
You can find much more information at the Westminster Kennel Club web site.
Until next time,
Good day, and good dog!
Similar Posts: