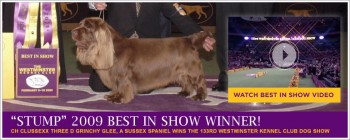 For those of you who thought Stump was only an ordinary Sussex Spaniel, doggies.com presents the rest of the story…
(picture credit:  WestminsterKennelClub.org)
First of all, 10-year old Stump is the oldest dog to ever win Westminster in its 133 year history.  The previous oldest was a mere pup of 8 years.
If you have followed Westminster shows closely over the years, you may already know that Stump won the Sporting Group in 2004.  However, soon after his win, he fell ill to a bacterial infection.  Doctors at the Texas A&M veterinary hospital were (dare I say it?) stumped as to the cause of his illness for about 19 days, and the poor dear almost died.  Finally, the source of the bacterial infection was found and cured.  (Yea Aggie vets!)
After his illness, Stump returned to his quiet retirement life at the home of owner/handler Scott Sommer and spent his days playing with Scott's other dog, 2001 Westminster Best in Show winner J.R., a beautiful Bichon Frise.
About a week before this year's show, Scott walked Stump around on the driveway and decided he still had one more show left in him, so he entered him.  And the rest, as they say, is history!
Until next time,
Good day, and good dog!
Similar Posts: