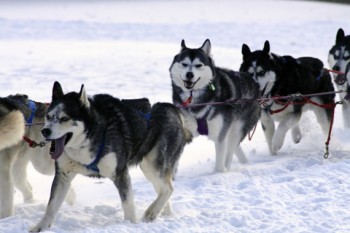 We'll dedicate several blogs this month to the upcoming race, one of the biggest sports events in the dog world.  The 37th annual Iditarod starts Saturday, March 7th at 10 am in the south central Alaskan city of Anchorage.  1150 miles and 10 – 17 days later, it ends in Nome, on the Western Bering Sea coast. 
Each team consists of a musher on a sled pulled by 12 -16 dogs.  They travel along a National Historic Trail once used to carry mail and supplies from the coast to mining camps and bring gold from the camps to the coast.
The official website for the race can be found here.  It has everything you want to know about the history of the race, a blog about race events, a store for race-related merchandise, and a section for teachers so students the world over can learn about the race.  There are even instructions on how letters can be written to the mushers along the route.
Until next time,
Good day, and good dog!
Similar Posts: