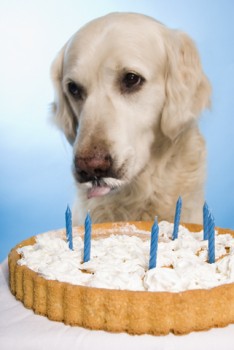 Have you ever caught your dog doing something, then scolded him, only to be met with a very sheepish look from your dog? Our collie used to slink to the floor when she was discovered on the living room couch. She actually looked like she was trying to disappear under the carpet.
A researcher from Barnard College named Alexandra Horowitz thinks that we (the humans) may actually help cause that guilty look.

To test her theory, she used 14 pairs of dogs and their humans. She had each person tell their dog to leave a snack alone, then leave the room. Horowitz then gave the treat to some dogs, but simply took it off of the counter with other dogs.
When the people returned to the room, she told some that their dogs had disobeyed and told others that the dogs had obeyed, regardless of what the dogs had really done.
She found that the dogs who had obeyed, but were scolded anyways, actually looked guiltier than those who were rightfully scolded for their disobedience.
Horowitz' conclusion is that the scolding causes the dog to look guilty, not the actual act of disobedience.
My take? It's really mean to mess with a dog's mind this way!
Until next time,
Good day, and good dog!
Similar Posts: