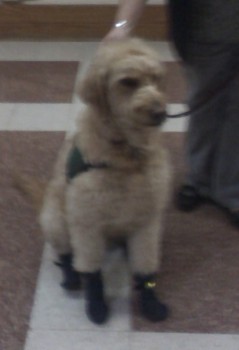 I was at the hospital last night visiting a friend and had the pleasure of running into Drakko. He is a Pet Therapy specialist serving at Mercy Hospital through a partnership with The Delta Society.
This beautiful Golden Doodle wears boots.  I asked if he had trouble on the slick hospital floors, and his handler Teresa said that he was fine on the floors, but his feet get so muddy, she puts boots on him when it rains so he doesn't track dirt all over the hospital.
Thanks for all you do, Drakko and Teresa!
Until next time,
Good day, and good dog!
Similar Posts: