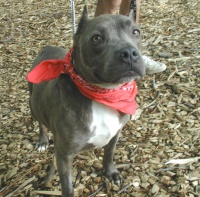 Just a few of the stories that have been in the news over the past couple of days:
You remember that last year, John Travolta's son died in the Bahamas after a seizure.  Now, he's lost two dogs, as well.  How much grief will this family have to endure?  It seems that the family flew into Bangor, Maine, and an assistant took the two dogs off of the plane for a walk.  A service truck from the airport was driving up to service the plane and didn't see the dogs, who were struck and killed.  Our sympathy goes out to the Travolta family.
How much is your dog worth?  Because all politicians are required to disclose a cash value associated with all of their gifts, President Obama recently included Bo on his financial report, with a stated value of $1600.
And now, for the wacky part:  you know that little blue pill that has been selling like hotcakes to men suffering from erectile dysfunction?  Turns out it can also be used to treat canine heart failure.  Ingrid, a 6-year old Pit Bull who lives at Little Shelter Animal Rescue in Huntington on Long Island, has been on Viagra for the past two years in the shelter, but is now running out of her supply.  Concerned citizens are lining up to donate their Viagra, but no one has offered yet to take the dog home in spite of the shelter's promise of a lifetime supply of pills.  (We hope they mean for the dog.)
Until next time,
Good day, and good dog!
Similar Posts: